My position as a member of the Carmel-by-the-Sea city council, and as mayor pro tem, has been rewarding, challenging and an honor. I remain grateful for the opportunity to impact our village in a positive way. My passion for our city is continually reinforced with every conversation I have with residents, shopkeepers or visitors. I am inspired and encouraged by the resilience and perseverance of our village, neighbors, friends. We live in a very special place.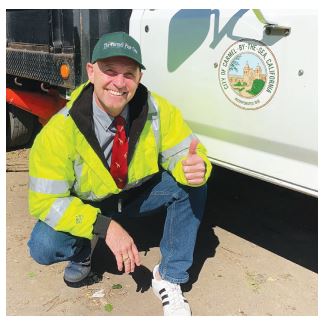 I am extremely proud of my voting record, and the reasoning behind each vote. I have witnessed many accomplishments in the past few years, and it is always satisfying to see them come to fruition. My dedication to maintain the safety and the character of our village has been unwavering. My determination to be fiscally responsible has always been evident when it comes to spending your tax dollars.
Carmel is now faced with unfamiliar circumstances, which brings a new set of challenges and opportunities. Above all, we must continue to maintain the safety of our residents and businesses, while preserving the character of our village.
We've experienced a 56% decline in revenue for the last fiscal quarter of 2019-2020, and a 73% decline for the first quarter of 2020-2021. Now more than ever is the time for experience and proven leadership to stay on the field. Carmel-by-the-Sea will need educated creativity and proactive solutions. I will continue to make sound decisions with understanding and respect for our citizens. Please allow me the privilege and honor of another term as your representative.
During social distancing and Covid-19 safety guidelines, nontraditional campaigning is required. The traditions of having "coffee" get togethers or social events at our favorite restaurants, or visiting door-to-door, are off the table. I will miss my post office campaign chats with the community. You may not see many flyers or brochures from me in your P.O. Box. I see far too many in the recycle bin. I may put a yard sign out, however, I struggle with that look for our village.
My new campaign direction will be more geared towards little waste and respect for the social distancing environment. Please look for my campaign ads in our newspaper, which hopefully will offer a little levity for the day. I will always include my contact information, and I am always here to answer an old-fashioned phone call. With a phone call from you, we can discuss concerns and share ideas, or I can answer your questions.
Let's not allow the social distancing to become anything more than a physical distance. We are all pressed by stressful times. However, the character of Carmel-by-theSea will remain safe, respectful and charming.
Let's Go Carmel. Be well stay safe and I look forward to chatting with you in person once we get to the other side of the curve.

Bobby Richards is a longtime Monterey Peninsula resident who attended Pacific Grove High School and serves on the city's community activities and cultural commission. Bobby worked for over a decade for business owner and Carmel icon, Denny LeVett, first at Cypress Inn and then as a General Manager at Denny's other Carmel hotels. Bobby currently co-owns Fly Away Cafe, Bar and Lounge with local restaurateur Rich Pèpe. These popular eateries are located at the Monterey Peninsula Airport.
Get to know Bobby Richards by viewing the photo gallery and videos below.